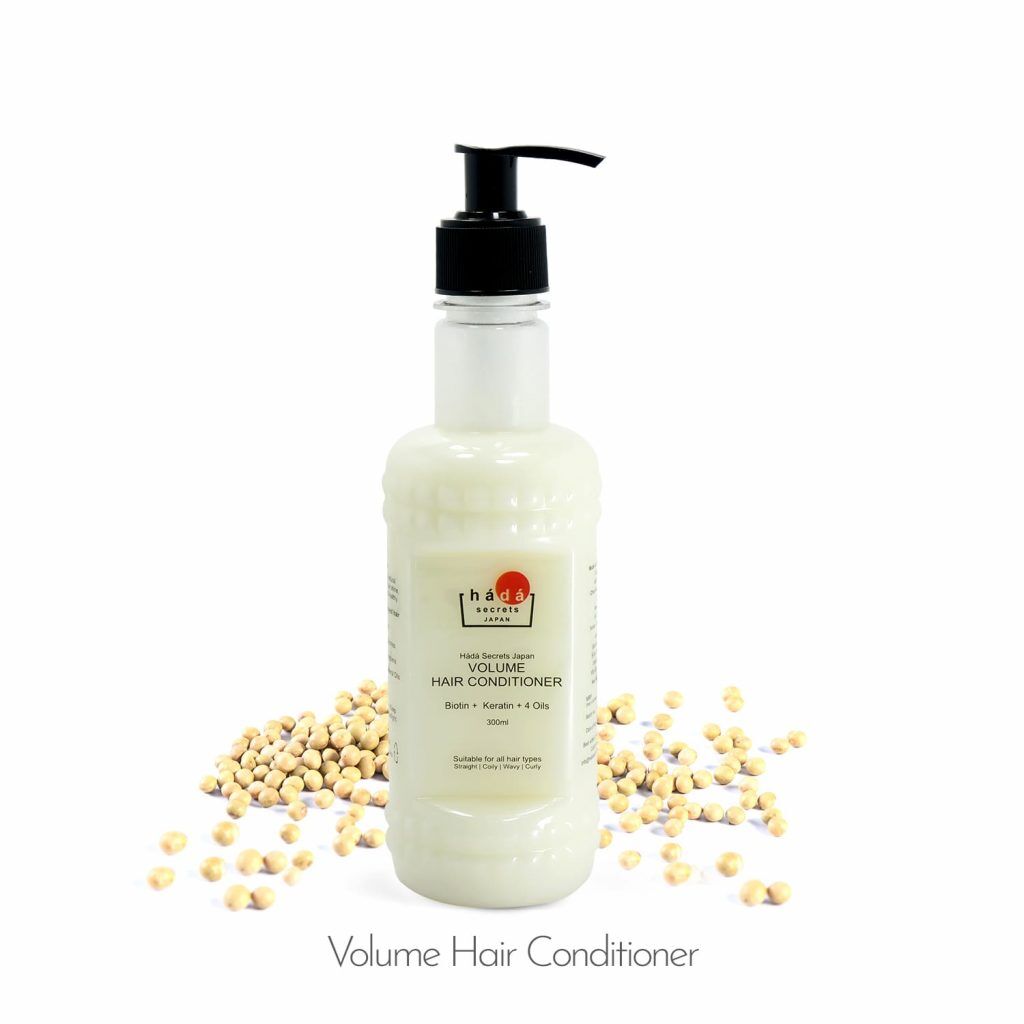 Volume Hair Conditioner with Natural Proteins, Biotin, Keratin, Vitamin & 4 Oils
Inclusive of GST
Hydrating & Hair Growth Conditioner
One of a kind – Biotin + Keratin + Natural Proteins + Vitamin + 4 Oils
Exceptional Japanese formulation – Essential hair & scalp care ingredients
Hydrolysed Natural Proteins – Japanese Soy Protein, Japanese Rice Protein, and Vegetables Protein – penetrate hair shafts and replace the damaged protein – and strengthen the hair and make them soft, shinier, fuller and voluminous.
Biotin– Helps stimulate hair growth.
Keratin– Helps hair look thicker and makes them look glossy.
Vitamin B5– Helps reduce hair loss, helps in hair-follicular growth, strengthens hair, improves manageability and boosts volume.
4 Oils Blend– Rosemary Oil, Geranium Oil, Cedarwood Oil, and Almond Oil makes the scalp healthy & the hair smooth and shiny.
Magnesium Compounds – reduce any Calcium build-up on the scalp, keeps hair follicles open and prevents hair loss.
Guaranteed 100% sulphate-free– Coconut oil based mild cleansers ensure soft and silky hair.
No artificial colours– Not even so called food grade colours.
Suitable for all scalp types– Dry, Normal, Oily
Suitable for all hair types– Straight, Wavy, Curly, Coily
Suitable for natural and coloured hair
Mild & Gentle – Suitable for anyone over the age of 5 years
EarthFirst – Made from 100% recycled material that can be further recycled
No animal testing at all
Makes hair manageable and voluminous.
Removes scalp & hair dryness – completely.
High quality ingredients help in scalp health & hair growth.
Prevents hair loss by stimulating the scalp and roots.
Hair becomes fuller and thicker and glow with shine.
Kindly Note – This product is non-returnable due to hygiene issues.
Hydrolysed Japanese Soy Protein
Hydrolysed Soy strengthens hair fibres naturally and makes them more tensile and resistant to breakage. It is full of amino acids that help both the scalp and the hair. It is an excellent conditioning agent. It provides natural shine & gloss to the hair and makes them more manageable.
Hydrolysed Japanese Rice Protein
Hydrolysed Rice is a natural alternative to chemical volumizing agents and helps improve hair manageability (detangling), strength, shine and volume. It's also effective in binding moisture and helps in increasing flexibility and tensile strength of the hair.
Hydrolysed Vegetable Protein
Hydrolysed Vegetable protein has high moisturizing and protective properties and works on increasing each hair strand's ability to bind moisture, adding shine and manageability to the hair. It also contains cysteine, a proteinogenic amino acid that penetrates the hair shaft and help improve its tensile strength
Biotin
Part of the Vitamin B family is known for strengthening hair and helping new hair growth. It is also known to provide a follicular boost, help retention, and grow healthy hair.
Keratin
Naturally occurring protein that forms more than 50% of hair build-up. Keratin is known to improve the strength and texture of hair and restore its natural shine. It is also known to protect the outermost part of the hair structure from the external environment like sun, pollutants, and water. Keratin is also known to make the hair thicker and shinier.
Vitamin B5
It helps strengthening and nourishing the hair follicles to promote healthy hair growth and prevent hair loss. .Additionally, Vitamin B5 is responsible for increasing water content and elasticity in the hair. It also helps improve manageability and boosts volume in the hair.
Sunflower Seed Extract
Sunflower seed extract contains vitamin E and helps in treating hair loss, and baldness. It is also anti-inflammatory and calms an itchy scalp. It also helps get rid of any traces of dandruff from the scalp.
Sweet Almond Oil
Helps hydrate both scalp and hair strands, and helps in giving a sheen to hair.
Rosemary Oil
It is a very good stimulant and helps prevent hair loss. It also helps hair become thicker and fuller. It is also known to have strong anti-inflammatory properties for the scalp.
Cedarwood Oil
It helps promote hair growth and reduce hair loss by balancing the oil-producing glands in the scalp. It helps in bringing needed shine and dandruff reduction and improved scalp health
Geranium Oil
Geranium essential oil can regulate dryness, excess oil, and the production of sebum. It also balances the pH of the scalp, thus reducing dryness, itching or any other scalp based issues. It's also known to aid hair growth.
Aloe Vera Extract
Naturally occurring plant full of Vitamins, Minerals, and anti-inflammatory compounds. It is known to reduce dead skin cells on the scalp and bring shine to hair strands. Also known to help treat dandruff on the scalp and hair.
Purified Water
Plant-derived Glycerine
Plant-derived natural intense scalp & hair moisturizer. Glycerine is also known to alleviate scalp dryness and maintaining oil balance.
Magnesium Chloride & Magnesium Nitrate
Magnesium compounds help in removing any excess deposits of calcium on the tiny blood vessels on the scalp. This improves blood circulation and restores the healthy state of hair follicles.
Cetrimonium Chloride
Cationic conditioning and cleansing agent used for making hair build-up and detangling them.
Citric Acid
Known to improve the scalp by getting rid of any issues and also helps follicular growth, It is a natural source of minerals (magnesium, calcium, phosphorous), Vitamin B, and Folic acid.
Polyquaternium 10
An anti-static agent that improves hair texture and gives them body
Phenoxyethanol
Mild preservative & product stabilizer used in adult & baby skincare products.
Butylated Hydroxy Toluene
It acts as an antioxidant that helps maintain the properties and performance of a product as it is exposed to air – to avoid a change in odour, in colour, in texture, etc.
Cetostearyl Alcohol
A vegetable oil derived alcohol (coconut oil and palm oil), it's not drying or irritating like other types of alcohol. It helps condition hair to make them softer.
Full Moist
Stearmidopropyl Dimethylamine (KYS 320)
A vegetable oil derived substance – it binds to the hair, helps correct the negative charge of product (conditioner), helps detangle, reduce statics, and helps smooth the cuticle. Unlike some silicones, it does not cause any build-up on the hair.
Fragrance
Glycerol Monostearate
Fatty acid derived from vegetable oils, used as an emulsifier.
Purified Water
Isopropyl Myristate
It is a popular ingredient for hair products for two properties – it's an effective emollient – which helps in locking moisture in the hair; and also helps other ingredients to penetrate the skin's and hair surface
Sodium Lactate
It is a natural humectant (draws moisture to itself) and is frequently used in hair care products.
Sodium Hydroxide
It's an acidity reducing agent that also helps straighten the hair.
Sodium Benzoate
It's a fragrance ingredient and preservative. As a preservative, sodium benzoate is primarily an anti-fungal agent but also has some effectiveness against bacteria.
MG60 (Maltooligosyl Glucoside)
MG60 is a vegetable carbohydrate syrup that provides smooth texture and leaves a luxuriant after-feel.
HPMC (Hydroxypropyl Methylcellulose)
HPMC is multifunctional as a natural lubricant, foam enhancer and stabilizer, thickener, emulsion stabilizer and film former for hair care products.
Zemea®
Zemea (Propanediol) is a 100% natural, skin-friendly preservative.
PEG-7 (Glyceryl Cocoate)
Produced from coconut oil-derived fatty acids, it helps in conditioning the hair, and also as an emollient.
Disodium EDTA
A vegan mild preservative and extremely gentle cleansing agent
How many times a day can this product be used?
This is a mild product. You can use the product as many times as you need after you shampoo your hair.
Can I use the conditioner daily?
Yes. Compared to the shampoo, the conditioner can be used more often. It helps hydrate the hair and replenish the required nutrients.
Suitable for?
All scalp types (dry, oily, or normal scalp); all hair types (Straight, Wavy, Curly, Coily); (natural or colour dyed) Anyone above age 5 can use this conditioner
Is this a sulphate free?
Yes, it is a 100% sulphate free product.
Can a conditioner be made without adding sulphates?
This is a special formulation for after wash and is made with Coconut & other plant oil derived mild cleansers. Guaranteed 100% sulphate free.
Is it suitable for all scalp & hair types?
Yes, the product has gone through extensive human trials on various parameters like mildness, softening, Smoothening, Moisturizing capacity, etc. with patrons having oily, normal, and dry scalp.
Most conditioners have colour, while this has none (milky), Why?
Most natural ingredients like extracts and essential oils have no colour (as they are purified and mostly steam distilled). Many brands add artificial colour to enhance look, for example – Aloe Vera conditioner is given an artificial green colour, etc. We don't use any artificial colours or dyes, not even food grade.
Will it irritate the eyes?
The product was tested on over 350 patrons from different parts of India (all climates, most skin types), and no eye irritation feedback was recorded. As we have used very mild and 100% sulphate-free ingredients, it will not give you any eye issues, unless you have some sensitivity. If sensitivity persists please stop using the product.
Can this be applied on the Scalp?
Yes, the conditioner can be applied to the scalp as it has many scalp care nutrients.
How much should I rinse after application?
You should rinse the conditioner with adequate water after about 5 to 6 minutes after application. If you have very dry hair, you can keep for slightly longer also.
How much time should I keep the conditioner before rinsing?
It depends on the state of your hair. For normal hair rinse after 5 to 6 minutes, and reduce for oily hair, and increase duration for rough and very dry hair.
Can I apply the conditioner before shampooing my hair?
For very dry hair, you can use the conditioner before shampoo also, or even without a shampoo wash after rinsing with water.
Can I use the conditioner daily?
Yes, the product is mild and formulated for using daily.
I have oily scalp & hair, can I use this conditioner?
It's a myth that people with oily scalp cannot use a hydrating conditioner. You should first shampoo hair properly and then apply this conditioner. The important point is that such scalp and hair types need a regular cleansing followed by a regimen of moisturizing & hydration. A few weeks of using such cleansing and hydrating products gets rid of extra oiliness from the skin.
What kind of ingredients does this product have?
Kindly refer to the ingredients tab on the product page. We use naturally derived ingredients and avoid the use of harsh chemicals and irritants. All our products are mild and very effective for hair and scalp wash and maintenance.
What is Biotin? How does it affect hair?
Biotin is part of the Vitamin B family known for strengthening hair and helping new hair growth. It is also known to provide a follicular boost, help retention, and grow healthy hair.
What is Keratin? How does it affect hair?
Keratin is a naturally occurring protein that forms more than 50% of hair build-up. It is known to improve the strength and texture of hair and restore its natural shine. Keratin is also known to protect the outermost part of the hair structure from external environmental effects like heat & UV from sunlight, air pollutants, and water contamination. Keratin is added to make the hair thicker and shinier.
How do Vitamins add to the conditioner wash help skin?
Vitamin B3 is an essential Vitamin for skin that is known to improve outer texture. Usage in hair care products is known to help make hair healthy by increasing its sheen. Vitamin E is known to support a healthy scalp and assist in maintaining new and existing hair growth. It is also known to bring shine to dry, frizzy, and/or unmanageable hair.
What is the benefit of Aloe Vera?
The aloe vera extract contains vitamins, anti-oxidants, minerals, and amino acids – beneficial to scalp and hair alike
Is the product packaging recyclable?
All our products are made with great determination to protect Mother Earth, and not cause any more harm to nature. For many years now, we only use recycled paper in all our packaging. We also use recycled plastic and all the plastic we use can be further recycled. We don't use any varnish and avoid using unnecessary plastic in packaging. Our outer packaging is also made from recycled paper.
Has this product been tested on animals?
We have never tested any of our products on animals, and will never do.
Your products don't claim to be '100% natural' or '100% organic'. Why?
We don't make such claims, as our focus is 'truly performing skincare', and that's exactly what matters to our patrons. We use organic farmed natural ingredients when their percentage in a product exceeds 5%.
We believe (and know) that there isn't anything like 100% natural in skincare, except 'DIY @ home'.
But, many times our skin troubles start with DIY or using so-called 'organic' products.
At Hada Secrets Japan, we use the best natural ingredients and blend them with the best actives. Our 'ingredients quality + our formulations' make all the good difference to your skin.
Wash your hair in the shower and rinse out all the shampoo. Use adequate amount of conditioner and spread it evenly on the hair. Run your fingers through and spread in the conditioner throughout the entire of your hair. Let it stay on your hair for a moment (2 to 5 minutes). Thoroughly rinse off the conditioner.
Pro-Tips
Avoid very hot showers, as they will deplete the scalp of natural oils, and make it excessively dry. If you must shower with hot water, ensure you apply a good conditioner thereafter.
Unlike other conditioners, the Hada Secrets Japan hair conditioner range can also be applied on the scalp. This is because our products feature scalp care and hair growth ingredients like Biotin, Oils, Vitamins, and natural extracts. Additionally, our hair products are 100% sulphate free and thus don't cause any dryness.
Don't rub your towel to dry the hair, instead let them dry on their own. This keeps their texture intact.
Avoid regular & excessive hair drying. If you must use a hair dryer, use it on low or medium heat, and use it sparingly.