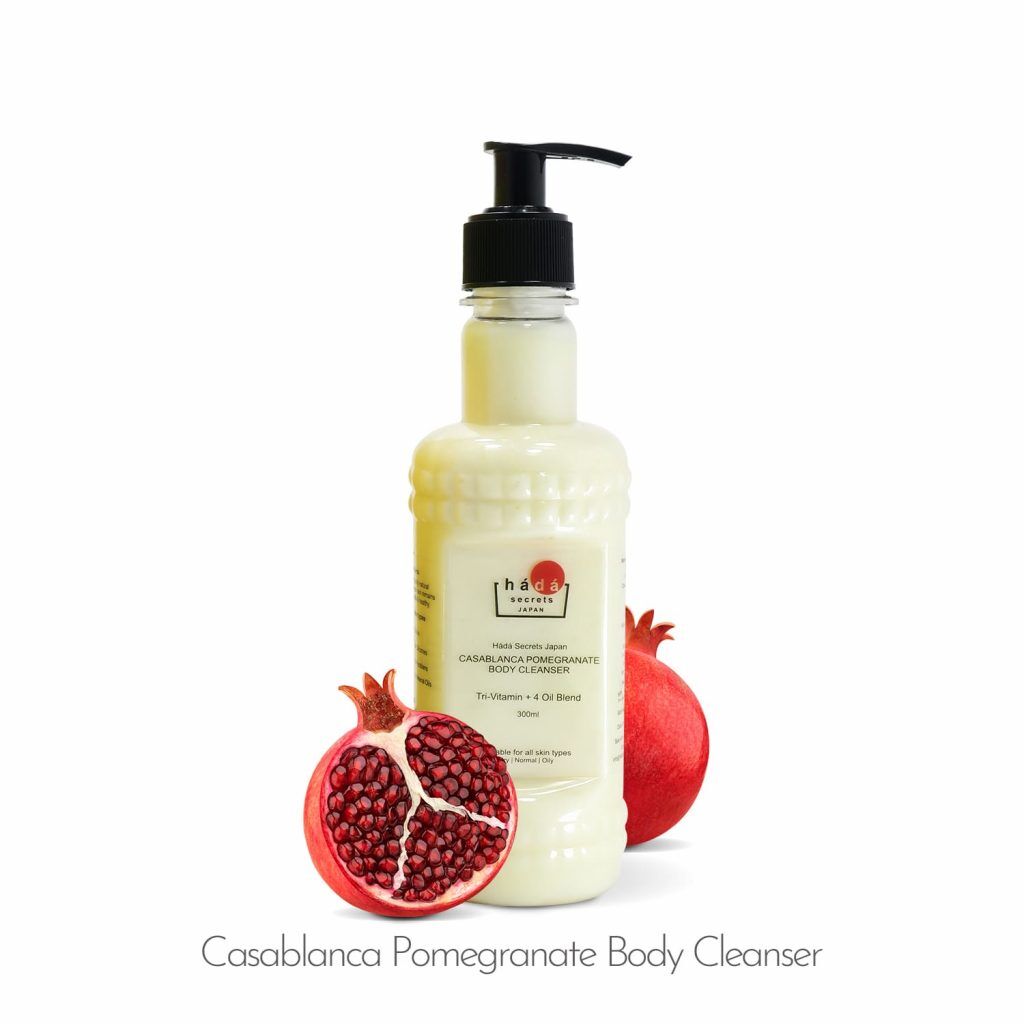 Casablanca Pomegranate Body Wash with Tri-Vitamins, Milk Moisturizer and 4 Oils
Inclusive of GST
Ultra-Moisturising Body Wash
One of a kind – Pomegranate Extracts + Vitamins + 4 skincare Oils + Milk Powder
Exceptional Japanese formulation – Essential skincare ingredients for effective cleansing.
Pomegranate Extract– Has strong anti-ageing benefits as it's a natural exfoliator, mild enough for even sensitive skin.
Vitamin C– Is an effective anti-oxidant and can help reduce UV damage and pigmentation.
Vitamin E– Protects & repairs skin damage; It's also a good skin moisturizer
Vitamin B3– Helps treat pigmentation, marks and helps skin elasticity.
Milk Powder– Naturally cleanses and brightens the skin.
Four-Oil Blend– Tea Tree Oil, Eucalyptus Oil, Sweet Almond Oil, and Olive Oil blend makes the skin healthy, smooth and shiny.
Plant-based-Glycerine – Helps skin retain moisture, relieve dryness and become more elastic.
Japanese 'Soft-Lather-Cleansing' formulation – Unmatched skin cleansing with moisture retainment – Experience never before clean, soft and supple skin.
Guaranteed 100% sulphate-free– Coconut oil based mild cleansers ensure soft and supple skin.
No artificial colours– Not even so called food grade colours.
No animal testing at all
Suitable for all skin types– Dry, Normal, Oily, Sensitive, and Acne
Mild & Gentle – Suitable for anyone over the age of 5 years
EarthFirst – Made from 100% recycled material that can be further recycled
Gently cleanses the skin while maintaining the skin elasticity.
High quality ingredients help in skin health & new cell growth.
Prevents dryness, itchiness or flaky skin – by providing adequate moisturization.
Skin becomes moisturized, softer, more elastic and supple.
Amazing fragrance from natural extracts & oils mesmerises you.
Kindly Note – This product is non-returnable due to hygiene issues.
Pomegranate Extracts
Rich in Vitamin C and tannins, ellagitannins, and anthocyanins – these have anti-ageing benefits and exfoliation properties. This extract also has anti-microbial properties.
Milk Powder
It is a good source of lactic acid which naturally cleans and brightens the skin. It is also rich in vitamins and minerals, which help in fighting both blackheads and whiteheads.
Vitamin C
Vitamin C accelerates the production of both collagen and elastin (both are known to keep the skin plump and firm). Vitamin C also helps prevent premature aging of the skin. It restores damaged skin to a smooth and supple appearance.
Vitamin B3 (Niacinamide)
An essential Vitamin for skin that is known to improve outer texture. It strengthens the protective barrier function of the skin, which then helps to reduce inflammation. Topical applications promote skin elasticity and decreasing redness.
Vitamin E
It is known to support a healthy skin. In topical applications, it acts like a moisturizer and treats dry, itchy skin. It also helps against small rashes, cuts and marks.
Olive Oil
Moisturises both the skin and treats dry and damaged skin. It revitalises and strengthens skin's tonicity and combats skin ageing.
Sweet Almond Oil
Helps hydrate the skin and improves skin tone. Almond oil is a very good emollient and helps in skin moisturization. It is also anti-bacterial and full of Vitamin A. Good for acne prone & sensitive skin..
Tea Tree Oil
Keeps the skin free from the fungal and bacterial formation. Also, helps treat any form of acne on the skin. It is also known to reduce acne scars and mild blemishes on the skin.
Eucalyptus Oil
It is a very good skincare oil known to have antibacterial, moisturizing, and anti-inflammatory properties. It can help in mild form of acne, as well as promote wound healing and provide pain relief for minor cuts and scrapes.
Cocoamidopropyl Betaine
100% sulphate free, gentle cleanser and lather booster. It is coconut oil-derived and is known to be very gentle on the skin. It is totally environment friendly.
Sodium Lauryl Sarcosinate
100% Sulphate free, coconut oil derived mild cleansing agent, known for being effective, yet very gentle on the skin. It is a biodegradable product know to provide medium foaming much different from harsh surfactants.
Glycerine
Plant-derived natural intense skin moisturizer. Glycerine is also known to alleviate skin dryness and maintaining natural oil balance.
Hydroxypropyl Methyl Cellulose
It is a moisturizer, foam enhancer and film former for widely used in skin care products. It is biodegradable.
Sodium Cocoyl Isethionate
100% sulphate free, coconut oil derived mild foaming agent, known to be very gentle on the skin. It is also known to be an incredible moisturizer. It is totally environment friendly.
Acrylate Co-Polymer
A mild film-forming polymer, used for water resistance in skin care products.
EDTA
A vegan mild preservative and extremely gentle cleansing agent.
Decyl Glucoside
Plant-derived ultra-mild surfactant with mild foaming properties.
Ceteareth-20
It is a commonly used emollient that also acts like a emulsifier in many skin care products. It is known to make skin soft, supple and smooth.
Stearic Acid
Made by hydrolysis of vegetable oil, it acts like an emollient and makes skin smooth and satin like.
Fragrance (Mild)
Purified Water
How many times a day can this product be used?
This is a mild product. You can use the product as many times as you need to wash your hair.
Suitable for?
All scalp types (dry, oily, or normal scalp); all hair types (Straight, Wavy, Curly, Coily); (natural or colour dyed) Anyone above age 5 can use this shampoo.
Is this a sulphate free shampoo?
Yes, it is a 100% sulphate free product.
Can a shampoo be made without adding sulphates?
This is a special formulation made with Coconut & other plant oil derived mild cleansers. Guaranteed 100% sulphate free.
Does this shampoo foam and lather?
Yes, the shampoo produces foam and lather to thoroughly cleanse scalp and hair of oil, dirt, and pollutants.
Is it suitable for all skin & hair types?
Yes, the product has gone through extensive human trials on various parameters like mildness, foaming, lather, sensitivity, fragrance, moisturizing capacity, etc. with patrons having oily, normal, and dry skin. The mild cleansers get rid of all oil, dirt, and pollutants from the scalp, and the rich Vitamin blend (Vitamin E and Vitamin B3) and blend of 3 oils hydrates the hair and scalp.
Most shampoos have colour, while this has none (milky), Why?
Most natural ingredients like extracts and essential oils have no colour (as they are purified and mostly steam distilled). Many brands add artificial colour to enhance look, for example – Aloe Vera shampoo is given a green colour, etc. We don't use any artificial colours or dyes, not even food grade.
Will it irritate the eyes?
The product was tested on over 300 patrons from different parts of India (all climates, most skin types), and no eye irritation feedback was recorded. As we have used very mild and 100% sulphate-free ingredients, it will not give you any eye issues, unless you have some sensitivity. If sensitivity persists please stop using the product.
I have oily skin, can I use this shampoo?
It's a myth that people with oily scalp cannot use a hydrating shampoo. The important point is that such scalp and hair types need a regular cleansing followed by a regimen of moisturizing & hydration. A few weeks of using such cleansing and hydrating products gets rid of extra oiliness from the skin.
What kind of ingredients does this product have?
Kindly refer to the ingredients tab on the product page. We use naturally derived ingredients and avoid the use of harsh chemicals and irritants. All our products are mild and very effective for hair and scalp wash and maintenance.
What is Biotin? How does it affect hair?
Biotin is part of the Vitamin B family known for strengthening hair and helping new hair growth. It is also known to provide a follicular boost, help retention, and grow healthy hair.
What is Keratin? How does it affect hair?
Keratin is a naturally occurring protein that forms more than 50% of hair build-up. It is known to improve the strength and texture of hair and restore its natural shine. Keratin is also known to protect the outermost part of the hair structure from external environmental effects like heat & UV from sunlight, air pollutants, and water contamination. Keratin is added to make the hair thicker and shinier.
How do Vitamins add to the shampoo wash help skin?
Vitamin B3 is an essential Vitamin for skin that is known to improve outer texture. Usage in hair care products is known to help make hair healthy by increasing its sheen. Vitamin E is known to support a healthy scalp and assist in maintaining new and existing hair growth. It is also known to bring shine to dry, frizzy, and/or unmanageable hair.
What is the benefit of Aloe Vera?
The aloe vera extract contains vitamins, anti-oxidants, minerals, and amino acids – beneficial to scalp and hair alike
Is the product packaging recyclable?
All our products are made with great determination to protect Mother Earth, and not cause any more harm to nature. For many years now, we only use recycled paper in all our packaging. We also use recycled plastic and all the plastic we use can be further recycled. We don't use any varnish and avoid using unnecessary plastic in packaging. Our outer packaging is also made from recycled paper.
Has this product been tested on animals?
We have never tested any of our products on animals, and will never do.
Your products don't claim to be '100% natural' or '100% organic'. Why?
We don't make such claims, as our focus is 'truly performing skincare', and that's exactly what matters to our patrons. We use organic farmed natural ingredients when their percentage in a product exceeds 5%.
We believe (and know) that there isn't anything like 100% natural in skincare, except 'DIY @ home'.
But, many times our skin troubles start with DIY or using so-called 'organic' products.
At Hada Secrets Japan, we use the best natural ingredients and blend them with the best actives. Our 'ingredients quality + our formulations' make all the good difference to your skin.
Wet your skin in the shower or bath. Lather some of the body wash on your hands and apply to your skin. Alternatively, pour some bodywash on a wet loofah or a washcloth and apply it to your skin. Rinse it off and pat dry with a towel.
Pro-Tips
Avoid very hot showers, as they will deplete the skin of natural oils, and make it excessively dry. If you must shower with hot water, ensure you apply a body moisturizer thereafter.
Don't lather excessively, else it will dry your skin.
Always wash your loofah or the washcloth before you shower with it.
Don't rub your towel to dry the skin, instead always pat dry. This keeps the moisture in the skin.